Combination Scales
Combination Scales
The Combination scale is a set of 12-14 scales interconnected to a Touchscreen computer, managing to make the perfect match of 2-3 scales in order to provide a total weight that satisfies the limits of a standard-weight package.

More and more Standard-weight is appled in the Supermarket shelf products, and the need is growing for a fast-deciding and accurate system that will be fast and will minimize the product give away.

The result can be the sum of one major part and some complimentary pieces, or possibly two or three similar pieces, like stakes, fish fillet or whole frozen fish or chicken legs.

Vegetables that can be adopted to our scale system are Asparagus, Grapes, Leeks, strawberries and many more.
COMBINATION SCALE: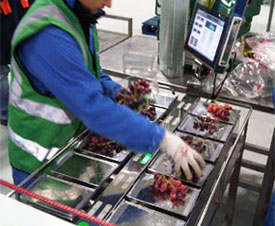 Packaging of standard-weight packages, with the combination of 14 Intelligent scales.
Simultaneous very fast weighing in 14 scales.
Combination of the weights in order to get the best summing result within tolerance.
Immediate Visual indication of the Combination.
Removing the selected productsfrom the scales, follow a visual signal and a registration in the recording system.
Operation with 2 master scales and 12 assisting or with 14 equivalent scales.
Measuring Accuracy +- 0.2gr / 500 gr.
Production of 15-25 pcs/min of 500 gr per system
Served by a crew of 2 persons, one feeding the scales and one collecting the succesfull combination.
Tolerance setting for Individual Packages.
Production recordings per workplace.
Production control over Running Productions.
Statistical Analysis.